CeylanException.h File Reference
#include "CeylanTextDisplayable.h"
#include <string>
#include <exception>
#include <iosfwd>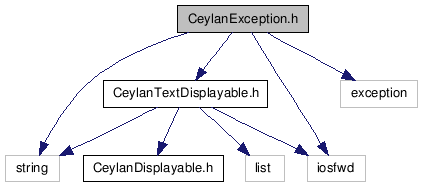 Go to the source code of this file.



Classes

class
Ceylan::Exception
This Exception class should be the mother of all exceptions raised by the Ceylan library. More...




Namespaces

namespace
Ceylan
This part of the Ceylan namespace gathers some convenient string manipulation facilities to be widely used.





Functions

std::ostream &
operator<< (std::ostream &os, const Ceylan::Exception &e)
Operator used to display easily an exception's message into an output stream.

---
Function Documentation